Namaste!
Hello Everyone 🙂 Namaste means "I honor the light in you" and it is my hope to turn that light up as bright as you can be 🙂 Please stop by to check out our new offerings including Life Coaching, Reiki & Thai Massages and personalized plans for a Bright New You 🙂
Join us this Fall for our Wellness Retreat!
Peace of Mind & Body Yoga & Wellness is offering a Wellness Retreat on the Potomac and Chesapeake Bay October 13-15. Check out our events page for more details and to reserve your spot 🙂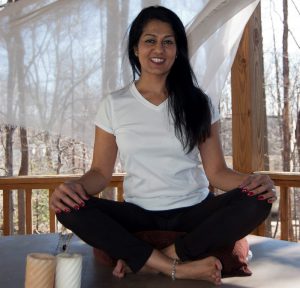 Peace of Mind & Body Wellness Studios is located in the Woodbridge / Montclair Virginia area, and we encourage you to "Lighten Up and Loosen Up" at your own perfect pace. Our founder Aliya, has been living and teaching a yoga based lifestyle since immigrating from India over thirty years ago. Aliya is certified through the Yoga Fit program and has been instructing a wide variety of age groups in yoga, stretching, meditation, and sports activities to children, adults and senior citizens at Fairfax County Parks & Recreation facilities, as well as retirement centers, and studios. With both of her parents born in India, Aliya has lived her entire life in an environment of meditation and movement, and she truly enjoys the opportunity to teach others how to find their inner peace and harmony and a healthier and happier lifestyle.
-Peace & Joy
*** NEW *** Now offering HypnoYoga and Reiki sessions live In-Studio or on Zoom